Development update 202205 🚀
We've just released a big update to Tellick Experience.
These new features and improvements are available immediately on https://experience.tellick.com. You don't have to do anything. Everything should be right where you expect it.
Changes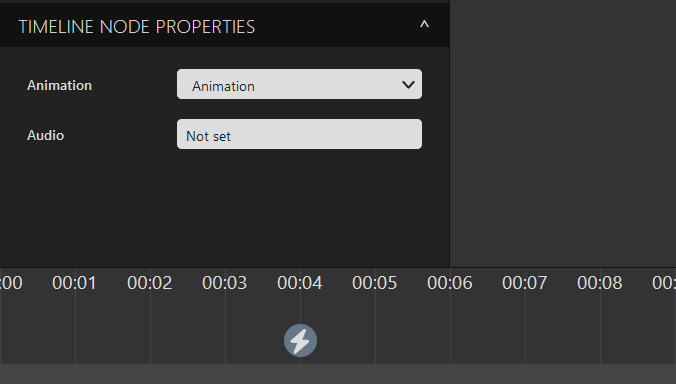 Event timeline for animations and audio. When you double-click a Model Scene, a tab opens allowing you to edit an event timeline for that scene. Left clicking adds an event and right clicking that event removes it. Events can trigger an animation or play an audio file. This addition is the first one to make specific adjustments to a scene possible. You can expect further development of these scene editors in the future.
Migration of file storage to Tellick CDN. Up untill now all files were stored inside a file service of the Tellick Experience Cloud. In order to enable advanced file features such als image processing, video thumbnail generation and video transcoding all files and file access has been migrated to the Tellick CDN. You might notice an improved file performance and thanks to thumbnail generation, an improved editor performance.
New media browser. As an extension to using the Tellick CDN for files, we dramatically improved the media browser. You can find this new browser as the file picker inside the editor or if you browse to create -> my media. The new media browser includes folders, renaming files, moving files between folders, deleting unused files and different file list views. It should make managing your files a breeze. You don't need to worry that moving a file would impact your experiences. File references are based on a unique id, not the file location in your media browser.
Multilingual support for the editor. In addition to multilingual support for Tellick Experiences, we added support to the Experience Editor. This is small changes, but it marks the completion of multilingual support of all Tellick Experience services.
Ground work for font rendering. We added everything needed to render fonts and thus text inside the Tellick Experience Player. This important addition will enable future features such as multiple choice questions, text information panels and tooltips for buttons.
Ground work for journey recording. As part of our efforts to enable collaboration on the platform we added support to record the choices someone makes while playing an experience. The use case behind it is a student/tutor scenario, where a student plays an experience as part of a training program. Afterwards, the tutor can watch, analyse and discuss the choices made by the student.
If you have any questions, remarks or tips, please use the share feedback button on the bottom of the screen in Tellick Experience. If you have an inquiry into our professional services or you're interested in getting access to the closed preview program, please send an email to info@tellick.com. If you're new and you like to preview Tellick Experience, you can create an account on https://experience.tellick.com/ and send us an email on previewprogram@tellick.com to get your preview account activated. Read https://blog.tellick.com/opening-up-the-tellick-experience-preview-program/ to learn more.